Item(s) succesfully added to your basket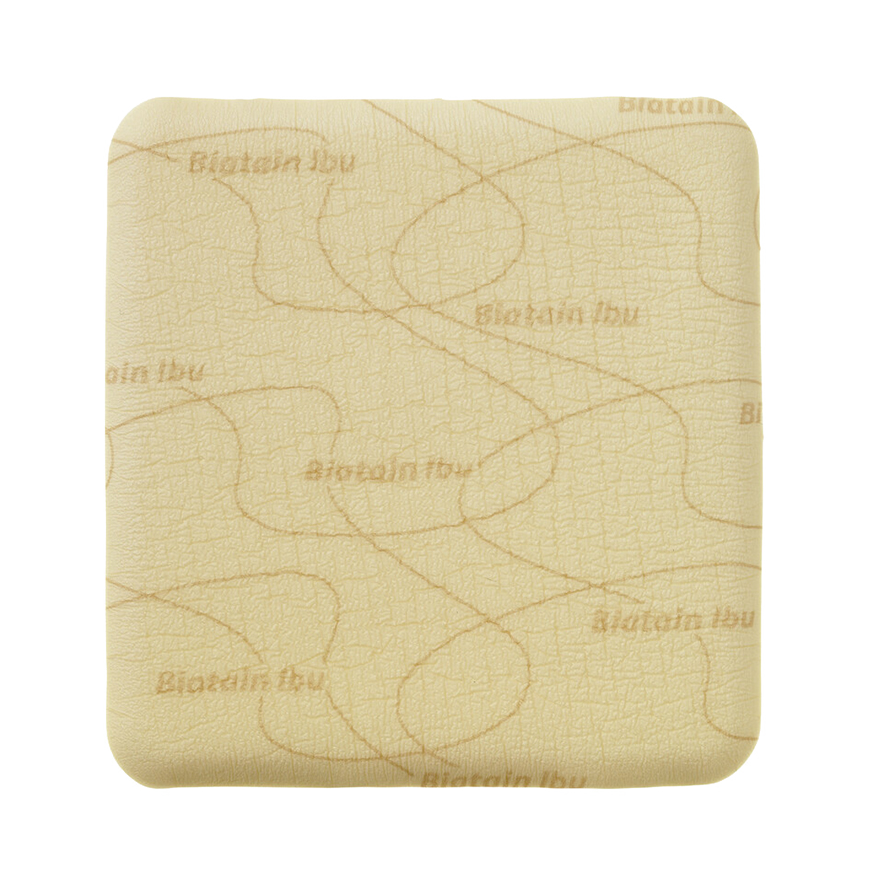 0 Item(s)
Go to basket
Biatain® Ibu Non-Adhesive
Biatain® Ibu Non-Adhesive
Biatain® Ibu Non-Adhesive is a soft and flexible absorbent foam dressing containing ibuprofen.
Contact us
Product description
Unique 3D foam structure for superior absorption
When in contact with exudate the unique 3D foam structure of Biatain® conforms to the wound bed for superior absorption – even under compression (2,6).
Soft and flexible dressing
Biatain® Ibu is a soft and flexible dressing that delivers high patient comfort. The bevelled edges reduce risk of pressure marks (3).
Combines moist wound healing with local release of ibuprofen
In the presence of exudate, there is a sustained release of a low dose of ibuprofen into the wound bed throughout the wear time of the dressing (up to 7 days) (1, 7).
Wound healing does not have to be painful
Comparative studies have shown a reduction in wound pain in patients wearing Biatain® Ibu compared with dressings without ibuprofen (4,5).
Mode of action
Ibuprofen is released when the foam comes in to contact with wound exudate (1,7).
Composition
Biatain® Ibu is an absorbent polyurethane foam that contains 0.5 mg/cm2 of ibuprofen homogeneously dispersed throughout the foam matrix (1).
Usage
Biatain® Ibu Non-Adhesive is indicated for a wide range of exuding wounds. This includes acute wounds such as second degree burns, donor sites, postoperative wounds and skin abrasions: and chronic wounds such as leg ulcers, pressure ulcers and non-infected diabetic foot ulcers. Biatain® Ibu is suitable for use in combination with compression therapy.
REFERENCES
1. Jorgensen B et al. Pain and quality of life for patients with venous leg ulcers: Proof of concept of the efficacy of Biatain® - Ibu, a new pain reducing wound dressing. Wound repair and regeneration 2006:14(3): 233-39.
2. Thomas S et al. www.dressings.org/TechnicalPublications/PDF/Coloplast-Dressings-Testing-2003-2004.pdf
3. Kirby P. Quality of life, exudate management and the Biatain® foam dressing range. British Journal of Nursing 2008:17(15):S32-S37.
4. Gottrup F et al. Reducing wound pain in venous leg ulcers with Biatain® Ibu: A randomised, controlled double-blind clinical investigation on the performance and safety. Wound Repair and Regeneration 2008:6:615-25.
5. Palao i Domenech R et al. Effects of a foam dressing with ibuprofen on wound pain: results from an international, comparative real life study on painful, exuding wounds. Journal of Wound Care 2008:17(8):342-48.
6. Reitzel N et al. An in-vitro test of absorption capacity of foam dressings under pressure. EWMA 2008
7. Steffansen B and Herping S. Novel wound models for characterizing the effects of exudate levels on the controlled release of ibuprofen from foam dressings. EWMA 2006.